Tips for Writing Messages to Women on OK Cupid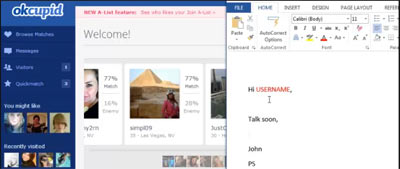 If you're sick and tired of writing emails and not getting a response, here is a link to my product on writing first emails that I talk about in the video:
The secret to writing first emails to women
It's frustrating writing endless emails and not getting a response from women. When I started online dating, NO ONE was writing me back. I've since learned a lot about sending first emails.
One of the biggest things is to screen the women you're thinking about writing to so that it improves your chances of getting a response.
I've wasted a lot of time writing women messages on OK Cupid in particular. The video here shows you two things to look out for before you write an email. I've got a couple of tips to help you decide which women you should write to, and which women you want to ignore.
Click here for a complete system for writing first emails…
Talk to you soon—JT