Tips for Writing Messages to Women on OK Cupid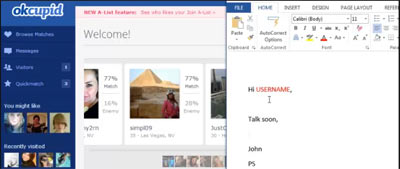 If you're sick and tired of writing messages to women on Ok Cupid and not getting a response, here is a link to my product on writing first emails that I talk about in the video:
The secret to writing first emails to women
It's frustrating writing endless emails and not getting a response from women. When I started online dating, NO ONE was writing me back. I've since learned a lot about sending first emails.
One of the biggest things is to screen the women you're thinking about writing to so that it improves your chances of getting a response.
I've wasted a lot of time writing women messages on OK Cupid in particular. The video here shows you two things to look out for before you write an email. I've got a couple of tips to help you decide which women you should write to, and which women you want to ignore.
Click here for a complete system for writing first emails…
Most guys screw up writing first emails, I did when I first started online dating years ago. I used to read a woman's profile and try to think of something to say to her.
Sometimes I tried to be funny or cute. That rarely worked. I think I ended up sounding desperate.
I would talk about something in a girl's profile… they didn't know what I was talking about. I think it had been so long since they wrote their profile that they forgot what I was referring to.
I would ask a question about something they were interested in. No response.
I started sending short messages like, "Hey, I really like your profile. My name's John, shoot me a message." No response.
I quoted something from one of their favorite books or movies. No response.
I tried about everything I could think of and for the longest time, nothing worked.
Then I stumbled on a system of writing first emails that women replied to. It was an accident, really. I was just so fed up with it all that I was trying anything at all. And finally something worked!
That system is a system for getting women to reply to your messages on OkCupid, or any other online dating site for that matter. You can get it here.
Talk to you soon—JT