Online Dating Profile Posts for men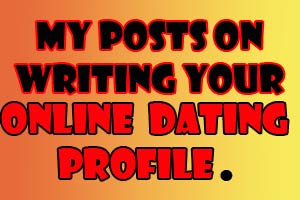 There are like 12 posts on my blog about online dating profile examples and profiles in general. I wanted to go over what's in each post so you can find what you need easily.
And remember, we don't care how much we like our profile.
We are only interested in how women respond to it.
The examples I give you in all my posts are things that women respond to.
So, let's go over the posts I have up now, and what you'll find in each post…
BUT WAIT!!! Before we do that, I want to let you know that you can get my in-depth book on how to write a killer profile, plus an mp3 of how to do all this. PLUS a book on writing first emails by clicking here.
Writing your first online dating profile (with examples)
Probably the best post I have on writing your profile if you are just starting out is this post with some great online dating profile examples. The post gives you great ideas on what to include in your profile with things that have worked in our testing.
The next best post if you are just starting out is the one I wrote that explains how to write each section of your profile. This is a must read so you understand what works and what doesn't.
Tweaking your online dating profile
Okay, these next posts are great if you already have a profile up and it isn't getting you the results you want… meaning girls aren't responding to it enough to make you happy.
This post introduces bubblewords and sensewords, and shows you how to write the way women think. It's an advanced technique, but the connections you'll make with women are incredible! Using this technique, guys have gone from 1 message a month to 2 or 3 a day. Great stuff in this post!
This next post is also a bit advanced and if you are wondering why your online dating profile isn't getting women to send you messages, then start here.
You'll find some of the most common attraction triggers that work with girls, what they find attractive in guys, and how to write your profile to show you have those qualities.
This next post is okay, but if you already get what's in the posts above, skip it. It's mostly a review of the problems I see guys making on their profiles and how to avoid them.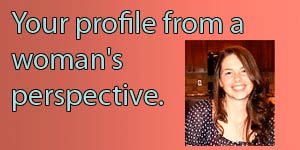 Online dating profiles from a female perspective
Next I have three great posts written by my friend Marlee who was new to the world of online dating when she wrote these posts. She tells you what worked for her, and why. These are great if you want to know what women think as they search for men online.
First she copy and pastes some online dating profile examples for men and shows you what is good and what's bad in each profile.
Second is her post on what she thought as she first looked through profiles on the free dating sites.
Third, after seeing the guys and their profiles, she gives you some mistakes guys make when writing their profiles.


Advanced online dating profile writing
Now we come to one of the best and most advanced posts I have on the site. It's an in depth look at bubblewords and sensewords. When you understand this concept and use it not just when writing your profile, but when talking to women in general, you are going to be seducing women that you never could've had a chance with before. This is a great post on seduction in general and I highly recommend you read it.
I also wrote a really, really good post on how to hook the girl from the first sentence of your profile. It's a simple technique, and works for your emails too. This is a great post if you're sending first online dating messages and not getting any replies from women.
And, I'm going to suggest you read this post too. it's great for first starting out, but once you have some experience online dating, you'll pick up the subtleties in this post and really crank up your success.
And… finally, if there is anything I don't have on the blog that you want to see, just send me a message and I'll write a post on it for you. As always, I've got your back.
Later—JT