Success with online dating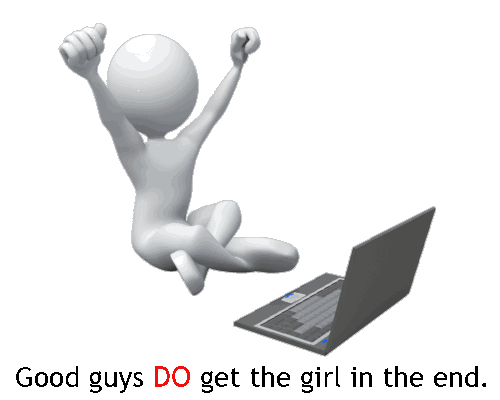 I promised another online dating success story that you get ideas from and use for yourself.
So…
Here's one of my favorite stories. And this is one of my favorites because this little anecdote is EXACTLY why I started this website.
My goal over a year ago was to have a place that men who were GOOD guys but weren't having success with online dating could go to get the best information, find whatever relationship they are looking for, and grow as a person.
Well, let me introduce "Caesar" (not his real name). He's a great guy who got screwed over by a girl and got his heart broken.
He decided to give online dating a shot, thinking that he might find a little success finding a decent woman.
Well, like most of us who first try online dating, he was met with an empty inbox.
He sent messages out, but got few, if any responses.
Like I said, Caesar is a great guy. He's the "nice" guy that does the right thing, even when it doesn't seem to be in his best interest.
Girls he'd love to date see him as just a "friend" but he deals with it because though he'd like more, he values those friendships.
He took his niece and nephew to Disneyland even though he was about broke. But he knew they'd love it and their parents could never afford it.
He's the guy who gets the cat out of the tree and helps old ladies across the street. And I'm not kidding here. he has really done those things. 🙂
Now, if you've been reading the blog for long, you know this sounds a whole lot like how I used to be. (Well besides the cat in the tree thing.) And when he bought Magnetic Profiles and contacted me with questions, I had to help the guy out.
I'm sure you'd do the same.
We changed his profile to make him sound unique and interesting using my eBook along with some great unique stuff I wrote for him from our conversations.
He took new pictures for his online dating profile. That was critical. Your pictures have to get the woman to click on it and actually take a look at your profile.
His new profile was interesting and showed what a great guy he is without sounding like he was trying to suck up.
We challenged women a little bit, and let them know he was looking for a certain quality of woman.
We also added a paragraph that over half the women who contacted him mentioned. You need something like that in your profile too, otherwise you just fade into the woodwork like every other guy on the online dating site.
He put the profile up and it started working. I don't remember the specifics, but I know he was FLOORED that after months of NOTHING, women were sending him messages out of the blue.
He even got a couple of women who pretty much offered to sleep with him. Not his style though (We differ there too, one of those girls was really pretty.)
I coached him on how to write his emails so that women would chase him…
One of the keys to writing online dating emails is to tease these girls. You want to play a game of cat and mouse. You want to write your emails so you come off interested, but challenging at the same time.
We did that with the messages to 4 girls, then down to 2.
Those two he went on dates with. And if you want my basics on first dates, you can check out this post on my other blog. And he really hit it off with one of the girls.
They've been dating for over a year now. This is EXACTLY what Caesar wanted. He wanted a girlfriend. He's kind of a one man guy. And I respect that, though it's not my style anymore.
So, let me summarize this…
One, you need to have a profile that differentiates you from other guys so that women email you first.
Your online dating profile has to have GREAT pictures along with it, or you're screwed.
Next, when women email you, you have to be a little hard to get and make them chase you.
Where you take them and what you do, especially on the first date, is critical. You want something sexually charged, even if you don't want to sleep with them right away. Creating that sexual tension right from the start is HUGE.
At that point you can decide if you want to date just one girl, or have open relationships with the girls you're seeing.
Try this out, and if you have any questions, drop me an email. I answer all my messages, though sometimes it takes me awhile depending on my schedule.
Talk soon—JT
If you're interested in my philosophy about women and online dating, this is a good post to start with.